Can a stallion named Gus save the Corolla Wild Horses from extinction?
POSTED 2:28 PM, NOVEMBER 24, 2014, BY TODD CORILLO, UPDATED AT 07:28PM, NOVEMBER 24, 2014
Corolla, North Carolina (WTKR) – A young stallion named Gus just might be the key to saving the wild horses that roam the beaches of Corolla.
The genetically-diverse wild stallion from Cedar Island, some 250 miles away, was released into the Corolla herd on Thursday.
"He's the offspring of some Shackelford horses who are the same breed as ours – Colonial Spanish Mustangs. They have far more maternal lines than we do. We are down to one maternal line. Our gene pool is very shallow. We are having birth defects, so Gus is historic," explained Corolla Wild Horse Fund Executive Director Karen McCalpin.
The process to get Gus into the herd has taken years and required approval from the U.S. Fish and Wildlife Service.
Earlier this year, McCalpin pulled DNA samples by dart gun from two wild stallions living on Cedar Island.
It was then analyzed by Dr. Gus Cothran of Texas A&M University who was able to confirm that the horses were Colonial Spanish Mustangs.
The Corolla Wild Horse Fund decided to name the stallion Gus in Dr. Cothran's honor.
After Gus tested negative for Equine Infectious Anemia, staff from the CWHF made the trip to Cedar Island to transport Gus to the north beach in Corolla.
The herd on Cedar Island has been owned and cared for by Woody and Nena Hancock.
"Gus is the first step in turning that headed for extinction situation around. Without the introduction of new genes into the Corolla herd – they would cease to exist. We are already at a genetic bottleneck where we are having consistent birth defects in foals," McCalpin told NewsChannel 3's Todd Corillo on Monday.
"Obviously we are hoping Gus finds some girlfriends and that offspring that he would produce would be the first genetically-diverse offspring here in centuries. We hope if not next year, the year after we're going to see a foal that we know is the beginning of turning around the path to extinction for these horses," she continued.
As she watched Gus idly graze in his new Corolla home on an abnormally warm late-November day, McCalpin couldn't help but be excited.
"Seeing him is probably bigger than winning the lottery for me. People talk about a bucket list and that was certainly on my bucket list. It's just amazing to me that we were able to do this."
McCalpin hopes to be able to return to Cedar Island in the spring to DNA test mares that could be released in Corolla as well.
WILD HORSES UNDER ATTACK...BUT WE'RE FIGHTING BACK
Where horses should be versus where ranchers want them...
The time has never been more critical for America's wild horses and burros. With holding facilities full, ranchers and their allies are doing everything they can to turn back the clock to the 1950's when wild horses were captured and trucked off for slaughter.

No matter where these assaults take place -- the courtroom, the halls of Congress, or the range -- the American Wild Horse Preservation Campaign has been there to fight back and defend our wild horses from this cruel fate.
But we can't continue this fight without your support. Anything you can give right now will be put to immediate use to fight efforts to slaughter wild horses and secure a wild and free future for them on our public lands.
TAKE ACTION
Utah Governor Takes Aim at Wild Horses & Burros
If Utah Governor Gary Herbert (pictured at left) had his way, his state would clear the public lands of wild horses "to keep ranges open for cattle grazing."
In public statements made last week, he proposed "aggressively" killing some mustangs and surgically sterilizing the rest! On Monday, AWHPC, our founding organization Return to Freedom, and our coalition partner The Cloud Foundation, dispatched a strongly-worded letter to Governor Herbert, reminding him that America's wild horses and burros are protected by an act of Congress, and demanding that he stop exaggerating the number of wild horses in Utah and scapegoating wild horses for environmental damage caused by livestock grazing. Please help us deliver a loud and clear message to Governor Herbert that these national icons -- like the public lands themselves -- belong to all Americans from all 50 states, not just the handful of ranchers who profit from grazing their livestock on public rangelands with subsidies paid by all American taxpayers.
Appropriations budget says no horse slaughter funding allowed
January 16, 2014
The House of Representatives passed the bill funding the government for Fiscal Year 2014 on Wednesday including language banning the United States Department of Agriculture inspection funding for equine slaughterhouses reported Horsebackmagazine.com.
The bill will now move to the Senate where it is expected to pass and be signed into law by President Obama.
United States Senator Mary Landrieu (D-La.) added the language to the FY2014 Appropriations bill in June. Senator Landrieu stated:
"Slaughtering horses is inhumane, disgusting, and unnecessary, and there is no place for it in the United States."
In a press release by Equine Advocates, a horse rescue and advocacy group from Chatham, N.Y., additional key players were praised for their hard work; among them Victoria McCullough, horsewoman and head of Chesapeake Petroleum, Vice President Joseph Biden, and Florida State Senator Joseph Abruzzo.
"We are grateful to Vice President Joe Biden, along with the support of congressional leaders, for adding the defunding language to the Omnibus bill. Robert Redford also needs to be thanked because he has been actively involved since he first signed the Voter Card for the passage of the California Initiative banning horse slaughter back in 1998. His support through the years has had a tremendous impact on this issue. I know I speak for most Americans when I say that horse slaughter is wrong and has no place in our culture," stated Susan Wagner, Equine Advocates President.
Follow Equine Advocates on Facebook by clicking here.
The Humane Society of the United States president and CEO, Wayne Pacelle stated:
"Americans do not want to see scarce tax dollars used to oversee an inhumane, disreputable horse slaughter industry. We don't have dog and cat slaughter plants in the U.S. catering to small markets overseas, and we shouldn't have horse slaughter operations for that purpose, either."
Congress is now being urged to pass the SAFE Act; Safeguard American Food Exports Act, H.R. 1094 / S. 541, to outlaw horse slaughter operations in the U.S., end the current export of American horses for slaughter abroad, and to protect the public from consuming toxic horse meat.
According to Webpronews, Blair Dunn, attorney for Valley Meat Company in New Mexico fighting to begin the slaughter of American horses in Roswell, stated:
"It is certainly disappointing that Congress is returning to a failed policy at the urging of special interest groups while failing to provide for an alternative."
For 80% of the American population against horse slaughter however, the news was a welcome sigh of relief.
If you would like to continue receiving the latest news on pet issues and how we can help those who cannot speak, please click the "Subscribe" icon.
Follow the National Pet Rescue Examiner on Facebook by clicking here.
NORTH CAROLINA: The Controversy Behind the Outer Banks Wild Horses
The Controversy Behind the Outer Banks Wild Horses
When we first began planning our visit to the North Carolina coast, I had no idea that there was any controversy about the Outer Banks wild horses. But when I received the following email from a manager of two National Wildlife Refuges in the area after inquiring about visiting, my curiosity was piqued:
"I try to stay far away from the wild horse issue. On a refuge purchased and managed for migratory birds (Currituck), any horses, cows, or other critters that compete with these birds for food are a problem. But the 'Corolla wild horses' are a huge political issue right now. So you're on your own with that one…"
This was the same U.S. Fish & Wildlife Service employee who had suggested in a previous email that I should make time for a chat with one of their biologists in order to gain the FWS perspective on the "wild horses," and acknowledged that there was a major focus on the issue of horse use on Currituck at the time.
So why was she unwilling to discuss the issue, other than to describe the Outer Banks wild horses as "a problem"? Why would a government agency take a confrontational stance against a species that is the area's #1 tourist attraction? And why would migratory birds be more important than animals that have reportedly been on these islands for some 500 years now?
There were just a few of the questions raging through my mind as we met up with Andrew Cole, a guide from Corolla's Wild Horse Adventure Tours, for a 4WD ride into Currituck National Wildlife Refuge.
HISTORY OF THE OUTER BANKS WILD HORSES: PRE-COLONIAL ERA
Commonly known as Banker Horses, these small, docile horses can be found living on Currituck Banks, Ocracoke Island, the Rachel Carson Estuarine Sanctuary, and Shackleford Banks. Their distinctive genetic characteristics suggest that they share ancestry with Colonial Spanish Horse breeds such as the Pryor Mountain Mustang and Paso Fino.
They're believed to have arrived on these barrier islands sometime in the 16th century, but how these feral horses originally came to the Outer Banks is the subject of some debate.
The most common theory is that their ancestors swam ashore from Spanish galleons that wrecked on hidden shoals, which earned the region the nickname "Graveyard of the Americas." Ships heading back to Spain often navigated a route along the Gulf Stream 20 miles off the Outer Banks' coast. Eight Spanish shipwrecks have been discovered nearby, sinking close enough to land for the horses to survive.
Another story suggests that the breed's ancestry can be traced back to horses brought to America in 1526 by Spanish explorer Lucas Vásquez de Ayllón, who tried to establish a colony near South Carolina's Santee River. When a majority of the colonists died, the survivors dispersed, and ultimately fled to Hispaniola, abandoning their horses.
Another theory centers on explorer Sir Richard Grenville, who brought horses to the islands in 1585 and tried to establish a British naval base there. All five of his ships ran aground at what is now Ocracoke, and there's documented evidence that they carried livestock obtained via trade in Hispaniola. In a letter Grenville sent to a business associate later that year, he claimed that some of his livestock survived on the island.
HISTORY OF THE OUTER BANKS WILD HORSES: MODERN TIMES
Regardless of how they got there, the ancestors of the original Banker horses have lived on North Carolina's barrier islands ever since, grazing on grasses and sea oats and digging holes ranging up to four feet deep in order to reach fresh groundwater.
In the early 1900s, the U.S. Lifesaving Service used the horses for beach patrol and rescue; the Coast Guard did the same during World War II. In 1955, Boy Scouts tamed 10 horses from the Ocracoke herd, riding them in parades and using them in programs for spraying mosquitoes in local salt marshes. Even as late as the 1980s, Bankers were used in service at Cape Hatteras National Seashore.
In short, these animals played a significant role in the state's coastal heritage, with thousands of them once roaming the Outer Banks. Less than 400 survive today.
But in the mid-1980s, the encroachment of human development into the Corolla wild horses' habitat began to create problems. Highway 12 was built, extending from the town of Duck north to the edge of what is now Currituck National Wildlife Refuge. By 1989, 11 Banker horses had been killed by cars, while other horses seemed confused by the fact that they weren't allowed to enter the Food Lion grocery store.
That same year, the non-profit Corolla Wild Horse Fund was created to help protect the species. The herd was moved to a remote section of the island, fenced into 1800 acres of land– some federally owned, some privately donated– that was declared a feral horse sanctuary.
OUR WILD HORSE ADVENTURE TOUR
We learned much of this local history from Andrew during our 13-mile drive from the Wild Horse Adventure Tours parking lot in Corolla north to Carova, a tiny unincorporated community located on the North Carolina-Virginia border.
The remote Currituck Banks community is accessible only by boat or 4-wheel drive, which you'll need to make your way down the expansive beach, past stumps from an ancient (but long-extinct) maritime forest, and over massive sand dunes to reach the unmarked trails that pass for roads through the 4570-acre Currituck National Wildlife Refuge.
You can explore this area without a guide if you choose, but I wouldn't recommend it. For one thing, there's the whole unmarked roads thing: Surrounded by sand and scrub thickets on all sides, it's easy to get lost if you don't know the way. Then there are the waist-deep puddles of freshwater that dot the landscape, which we actually saw one 4WD get stuck in.
But most importantly, there's the other side of the controversy surrounding the Outer Banks Wild Horses: The residents of Carova. Though sparsely populated, with no businesses whatsoever, the tight-knit community is fiercely protective of the horses, and will not tolerate anyone breaking the rule that states visitors must stay at least 50 feet from the horses at all times.
Of the eight horses we spotted during my two visits to Carova, four were seen grazing on the grass in people's front yards, looking about as domesticated as a friendly neighborhood dog. The community works in alliance with the Corolla Wild Horse Fund and tour companies to ensure that these horses (which are clearly more feral than "wild") are protected, with a volunteer citizen patrol organized to do just that.
The other four horses? They made their way to the dunes along the beach (right behind the "Please Keep Off Dunes" signs), where they fed on grasses fenced off by the Dune Protection Project. And therein lies the problem: The Fish & Wildlife Service has prioritized protecting the dunes, grasses that prevent erosion, endangered migratory birds that depend on the island's wetlands, and sea turtles that nest on its shores. They claim that the herd (around 120 animals) is too big and taxes the local ecosystem.
But residents fear the population will grow dangerously inbred if the numbers drop any lower, citing a DNA analysis published in 2012 by Texas A&M equine genetics expert Dr. Gus Cothran, which claimed the herd needed 110 to 130 horses in order to slow genetic erosion. The same report suggests Corolla's horses may be genetically connected to an ancient Iberian breed that exists nowhere else in the world.
THE OUTER BANKS WILD HORSES WIN
Regardless of which side of this conservation debate your opinion falls on, the Banker horses seem to have won the battle: Last year, the U.S. House of Representatives passed the Corolla Wild Horses Protection Act, which will maintain the herd at around 130 horses, provide cost-effective herd management, and introduce new horses from Cape Lookout National Seashore as needed to preserve genetic viability.
In the eyes of the Fish & Wildlife Service and other conservationists, the horses may never be considered anything more than "a problem." But if public sentiment is any indication, the ancient bond between horses and humans will ensure that Corolla's horses continue to roam free for another 500 years. –by Bret Love; photos by Bret Love & Alexandra Love
YOUR Tax Dollars at Work on the Outer Banks
The Department of the Interior, in the form of United States Fish and Wildlife Service, is determined to zero out every wild horse and burro on the Sheldon National Wildlife Refuge in Nevada. They define America's wild horses as a feral, invasive species – a pest animal. Listed with feral pigs, nutria, phragmites and Burmese pythons. And what do they do to invasive species? They eradicate them.
What does that have to do with the wild horses living north of Corolla? The Currituck National Wildlife Refuge (CNWR) is owned by United States Fish & Wildlife Service (USFWS, but technically by you and I, as American tax payers). No, they aren't planning to conduct their standard inhumane helicopter "gathers" of American wild horses (see http://www.americanwildhorsepreservationcampaign) but what they ARE planning to do, does bring the word "inhumane" to mind.
They recently put a fencing project out for bid for 2.9 miles of 15 gauge, 4 strand, 4 point barbed wire fence connecting to an already existing 142 acre high tensile wire electric fence. This will off all access through the Swan Beach section of refuge to all wildlife and is titled "Horse Fence Construction." Historically, barbed wire became popular in the west in the late 1800's because it was cheaper, easier, and quicker than other types of fences and its painful barbs were meant to keep cattle from leaning against it. During WWI, barbed wire was used as a military weapon, and today is still used to secure military installations, define boundaries, and contain prisoners.
The University of Illinois wrote in their publication "Illi Horse Net, "barbed wire should NEVER be used for horse fencing. Barbed wire fencing is highly likely to result in serious injury to horses due to its lack of visibility and dangerous sharp edges."
Imagine a horse or deer running full tilt into razor sharp fence and shredding their skin with deep and jagged wounds – or worse – entangled, struggling for hours, and dying a slow agonizing death. THAT is the reality of barbed wire. Barbed wire is not only cruel to horses and deer, birds are frequent victims too. Picture an owl swooping down after its prey, wings widespread, and becoming caught and tangled as it struggles. Barb wire rusts quickly too, especially in our wet and salt air environment. So tetanus can also be added to the list of horrors.
The CNWR is unstaffed. Who will be regularly checking the 3 mile fence line to ensure no animals are hurt or suffering? Who will walk that federal land every day? Not USFWS. They must already rely on a small group of volunteers to check their existing feral hog bait traps. When asked what happens to the hogs in the traps, the refuge manager replied, "That's a bit of a PR problem. Let's just say they don't leave alive."
So, if USFWS's continued refusal to allow the herd size to maintain the scientifically determined number of 120 to 130 needed to maintain genetic diversity is combined with nearly three miles of barbed wire fence, it won't take helicopter gatherings to further zero out our horses. They know the wild horses are well on their way to extinction already and the barbed wire fence is just another big, cruel, nail in the coffin. The horses won't be alone though. There will be plenty of "native wildlife," that they are mission bound to protect, that will suffer and die a horrible death as well.
I can assure you that when the first horse is found severely injured, entangled, or dead from tetanus, and it IS going to happen at some point – they are going to have a big "PR problem." We will see to that. And WE will be the ones to try and save the horses' life – or bury it.
Corolla Wild Horse Bill Gets House Nod
By Pat Raia JUN 05, 2013 - The Horse
TOPICS: Wild & Feral Horses
On June 3, the full U.S. House of Representatives voted to pass legislation that would help protect a herd of wild horses residing on North Carolina's Outer Banks. But the executive director of the organization that manages the herd says the battle to ensure the horses' future is only half won.
More than 100 feral horses in the so-called Corolla herd reside on the Carrituck Outer Banks; 70% of those reside on lands owned by private individuals and corporations while the remainder resides on a 7,500-acre sanctuary in the Currituck National Wildlife Refuge. The nonprofit Corolla Wild Horse Fund (CWHF) manages the animals while the U.S. Fish and Wildlife Service manages the refuge. Under an existing agreement between the Interior Department, the state of North Carolina, Currituck County, and the CWHF, the maximum number of horses allowed in the herd is 60.
Elsewhere on the Outer Banks, a herd of more than 110 wild horses currently resides at the Cape Lookout National Seashore.
In January 2013, North Carolina Congressman Walter B. Jones, Jr. introduced HR 126, the Corolla Wild Horses Protection Act, which would allow a small number of free-roaming wild horses from the Cape Lookout National Seashore herd to be introduced as necessary to maintain the genetic viability of the herd in and around the refuge. The legislation also calls for a public-private management agreement plan for the horses that allows would allow a herd population of no more than 130 horses with a target herd population of between 120 and 130 animals.
With the House nod, the bill now moves on to the U.S. Senate for review.
Currituck National Wildlife Refuge manager Mike Hoff was unavailable for comment.
Karen McCalpin, executive director of the Corolla Wild Horse Fund, believes the herd expansion is reasonable.
"Bringing a few mares as long as we don't exceed population limits should not be a problem," McCalpin said. "Not only are these horses symbols of hope … but they have major tourism value to North Carolina."
Previous similar legislation that sailed through the House fared poorly in the Senate, McCalpin said. Last year, House members passed HR 306, which represented nearly identical legislation to HR 126. That bill died in committee in the Senate.
North Carolina Sen. Kay Hagan was not available for comment on the bill.
Corolla Wild Horse Fund & American Wild Horse Preservation News
This week marks a crucial moment for America's wild horses.
On Wednesday, the National Academy of Sciences (NAS) is going to release its report on the Bureau of Land Management (BLM) Wild Horse and Burro Program. The new Interior Secretary, Sally Jewell, has said that she's waiting for this report to decide how the program should be handled going forward.
The BLM isn't waiting around for this report to drop though. In fact, the agency is moving forward with a devastating roundup in Wyoming's Adobe Town/Salt Wells Complex, as step one in a diabolical plan to eliminate wild horses from two million acres of land in the southern pa plan which, if carried out, will result in the elimination of wild horses there.
The deadline on the public comment period for this plan is closing fast, so before it's too late, tell the BLM to make room for mustangs in Wyoming!
We will have more news for you later this week about the NAS report and its implications for our wild horses and burros. We have been concerned about this panel from day one, and after Wednesday the fight may really be on for the future of wild horses across the West.
For now, please be sure to make your voice heard on behalf of Wyoming's beautiful Adobe Town and Salt Wells Creek wild horses.
- The AWHPC Team
Become a Corolla Wild Horse Fund Member -
Help Keep the Corolla Wild Horses Wild and Free!
The Corolla Wild Horse Fund is a non-profit, registered 501(c)3 public charity, whose mission is to protect, preserve, and responsibly manage the herd of wild Colonial Spanish Mustangs roaming freely on the northernmost Currituck Outer Banks. You can be a part of protecting and preserving this historic herd!
Your membership dollars are critical to help us carry out our mission, provide care for injured horses, and give the wild horses a much needed voice. Members receive car window clings and our quarterly publication, Wild and Free. Members at the $50 level or higher are entitled to a 10% discount on CWHF merchandise. Click here for a membership form.
Adoption Program
In 1995, Secretary Betty McCain of the Department of Cultural Resources issued the following Proclamation: "The Corolla Wild Horses are one of North Carolina's most significant historic and cultural resources of the coastal area."
Would you like to own a piece of history?
In compliance with the Currituck Wild Horse Management Plan, one of the ways the Corolla Wild Horse Fund manages the herd size is to make horses available for adoption. We appreciate your interest in adopting one of the Colonial Spanish Mustangs of the Outer Banks.
Generally, yearling or younger fillies and gelded colts are available. Younger animals have a much easier time transitioning to a domestic lifestyle and the gene pool is less affected by their removal. Stallions are available on a case by case by basis.
All horses are tested for EIA, vaccinated, wormed, halter broken, and qualify for registration with the Horse of the Americas' Registry www.horseoftheamericas.com as Coloni-al Spanish Mustangs.
Adoption Requirements, Application, & Agreement

Please read the requirements and application very carefully before completing (click here). A $100 deposit is required with the application and an additional $515 is due upon approval. Please note: The Corolla Wild Horse Fund, Inc., evaluates applications in the order in which they are received.
Offsite Breeding Programs

The Colonial Spanish Mustang is on the threatened breeds list of the American Livestock Breed Conservancy, with less than 5,000 horses globally.
100 Reasons to NOT Touch or Feed Our Wild Horses

Our current herd count is 100. That is about 30 short of the minimum we need to maintain the genetic diversity and physical health of the wild horses. It is about to get smaller.

Last night I got several calls regarding a stallion that was lying on a sand road in Carova (the northernmost development on the north beach). He had been in the area grazing all day but had been lying on Ocean Pearl Road for about an hour. The initial caller wasn't too concerned at first because the horses lie down in the sand and rest all the time. What caused him the most concern was watching a woman walk right up to the stallion, scratch him on the forehead, and the stallion made no attempt to get up or show signs that he didn't welcome the attention. That is not normal behavior for a wild animal. That is what convinced him that something was wrong with the horse.

Long story short – the stallion was not sick or injured - but he is going to have to be captured and removed from the beach anyway. Why? Because he clearly has no fear of humans. He has no fear of humans because it is most likely that he has been approached and or fed so many times that he accepts, and perhaps now looks for, attention from humans. Now this horse has become a danger to humans. If he isn't already, he will now approach humans and demand to be fed. In 2006 we removed another young stallion because he approached a resident out for a walk, demanded to be fed, and knocked the woman down because she had nothing to give him. Luckily she was only severely bruised. Now he is a gelding awaiting adoption and can never return to the beach that was his home.

Last year we found a young mare dead by a canal. Necropsy results identified alfa toxin poisoning as the cause of death. The horse apparently ate moldy hay that some well meaning but misguided person put out for the horses.

We have only 100 horses. We cannot afford to lose a single horse from the already dwindling gene pool. IT IS AGAINST THE LAW IN CURRITUCK COUNTY TO APPROACH, PET, OR FEED A WILD HORSE. There are 100 good reasons for this.

The horses have a specialized diet that has kept them healthy for nearly five centuries. Our volunteers have found apples, carrots, celery, spinach and lettuce that is being left out or fed directly to wild horses. The other consequence of feeding is painful colic or death but that is another topic in itself.

The link to the Wild Horse Ordinance is on our home page. Spread the word. Save our wild horses. Respect the Wild Horse Ordinance.
Until the Last Wild Horse is Gone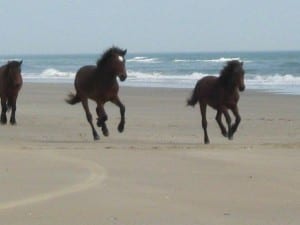 This has been a devastating year for the American wild horse. In the west, as if the cruel helicopter roundups, confinement of nearly forty seven thousand wild horses in government holding pens, and their sale to kill buyers for slaughter in Canada and Mexico is not horrific enough, other insidious ways to rid the land of wild horses and the advocates trying to save them are beginning to surface.
In the east, advocates for the wild horses north of Corolla, NC have been working with federal legislators to pass the Corolla Wild Horses Protection Act. The Act mandates that the herd be managed at a range of 120 – 130 with never less than 110 and that mares from Shackleford Banks can be introduced periodically to address the Corolla's dying gene pool. Similar legislation was passed in 1998 to protect the Shackleford horses that live on half the habitat available to the Corollas.
Presently, an expired management plan calls for a maximum herd size of 60 and United States Fish & Wildlife Service has refused to allow the number to change. Two thirds of the land available to the wild horses of Corolla is privately owned and the other one third is owned by USFWS. This year's aerial count showed 121 horses on 7,544 acres with only 8 horses on USFWS land. The current herd size is 119.
The Corolla Wild Horses Protection Act, sponsored by Congressman Walter Jones (R), passed the United States House of Representatives unanimously, on February 6, 2012. It was introduced into the Senate by NC Senator Kay Hagan (D) and co-sponsored by NC Senator Richard Burr (R) in March and referred to the Senate Environment and Public Works Committee where it has remained ever since.
Time is running out for the bill (S 3448) and for the Corolla wild horses. It will not take helicopter roundups, sales to kill buyers, or poisoned water to kill them. Without the ability to be managed at a genetically and physically healthy level, nature – in the form of genetic collapse and physical abnormalities due to inbreeding – will do the trick within a few generations. Once they are gone – they are gone forever.
You can help to save them. Please e mail Senator Barbara Boxer, Chairperson of the Environment and Public Works Committee:https://boxer.senate.gov/en/contact/policycomments.cfm and Senator James Inhofe: http://inhofe.senate.gov/public/index.cfm?FuseAction=Contact.ContactForm .
Tell them that you strongly support S 3448 and you want to see it passed before the end of this year. Tell them that these horses have coexisted with all other wildlife for nearly 500 years and have had no unacceptable impact on the environment. The Shackleford horses have been managed at the same number as defined in S 3448 for 14 years, on half the land available to the Corollas, with no unacceptable impact.
Only the voting public can stop the eradication of wild horses from our country.
URGENT! Help Save North Carolina's State Horse!
Dear Supporters of the Corolla Wild Horses:
The North Carolina State Horse urgently needs your help. The Corolla Wild Horses Protection Act, S 3448, sponsored by North Carolina Senator Kay Hagan and cosponsored by NC Senator Richard Burr, has been sitting in the United States Senate Environment and Public Works Committee since March of this year. It was passed unanimously by the US House of Representatives on February 6. This bill is absolutely critical to the long term survival of the free-roaming wild horses living north of Corolla.
The bill mandates that the herd be managed at 120 – 130 with never less than 110, which is the absolute minimum for genetic and physical health in this wild population. Currently, United States Fish & Wildlife Service (owner of 3,000 of the 7,544 total acres accessible to the wild horses) is insisting that the herd size be 60. Results of recent genetic testing show an alarming level of inbreeding and the presence of only one maternal line. In contrast, the wild horses of Shackleford Banks (Cape Lookout National Seashore) have been managed at the level that we are requesting (120 – 130) for nearly 15 years, on 3,000 acres, with no unacceptable impact to the environment. The Shackleford horses are federally protected by the Shackleford Banks Act that was sponsored by US Congressman Walter Jones (NC) and signed into law in 1998 by President Bill Clinton.
In the last 7 years of our aerial counts, the maximum number of wild horses on the Currituck National Refuge was 35. This year there were 8 and another year there were 0! The majority of the herd is consistently found on private property – not wildlife refuge.
Managing the Corolla herd at 60 is managing for genetic collapse and eventual extinction. In 2010, these wild Colonial Spanish Mustangs were designated by the NC Legislature as the North Carolina State Horse. WE ARE ASKINGFOR YOUR HELP TO SAVE THE WILD HORSES OF COROLLA FROM DISAPPEARING FROM THE LAND THEY HAVE INHABITED FOR CENTURIES.
Time is running out. Soon, Congress will recess for the holidays. If the bill is not passed, it will have to be introduced in the US House of Representatives and the process will start all over again. Please contact Senators Hagan and Burr and let them know that you not only strongly support the Corolla Wild Horses Protection Act (S3448) you want it passed by the end of this year.
Please act today. Be a voice for the horses. They are an integral part of the history of our country and without your help and support, they may disappear forever.
Senator Kay Hagan: http://www.hagan.senate.gov/contact/ FAX: 202-228-2563; Phone: 202-224-6342
Senator Richard Burr: http://burr.senate.gov/public/index.cfm?FuseAction=Contact.ContactForm
FAX: 202-228-2981; Phone: 202-224-3154
LETTERS SENT BY US MAIL WILL NOT REACH THE SENATORS IN TIME AS THEY UNDERGO IRRADIATION