Corolla Wild Horse Fund News, Updates and Events
Become a Corolla Wild Horse Fund Member -
Help Keep the Corolla Wild Horses Wild and Free!
The Corolla Wild Horse Fund is a non-profit, registered 501(c)3 public charity, whose mission is to protect, preserve, and responsibly manage the herd of wild Colonial Spanish Mustangs roaming freely on the northernmost Currituck Outer Banks. You can be a part of protecting and preserving this historic herd!
Your membership dollars are critical to help us carry out our mission, provide care for injured horses, and give the wild horses a much needed voice. Members receive car window clings and our quarterly publication, Wild and Free. Members at the $50 level or higher are entitled to a 10% discount on CWHF merchandise. Click here for a membership form.
Adoption Program
In 1995, Secretary Betty McCain of the Department of Cultural Resources issued the following Proclamation: "The Corolla Wild Horses are one of North Carolina's most significant historic and cultural resources of the coastal area."
Would you like to own a piece of history?

In compliance with the Currituck Wild Horse Management Plan, one of the ways the Corolla Wild Horse Fund manages the herd size is to make horses available for adoption. We appreciate your interest in adopting one of the Colonial Spanish Mustangs of the Outer Banks.
Generally, yearling or younger fillies and gelded colts are available. Younger animals have a much easier time transitioning to a domestic lifestyle and the gene pool is less affected by their removal. Stallions are available on a case by case by basis.
All horses are tested for EIA, vaccinated, wormed, halter broken, and qualify for registration with the Horse of the Americas' Registry www.horseoftheamericas.com as Coloni-al Spanish Mustangs.
Adoption Requirements, Application, & Agreement

Please read the requirements and application very carefully before completing (click here). A $100 deposit is required with the application and an additional $515 is due upon approval. Please note: The Corolla Wild Horse Fund, Inc., evaluates applications in the order in which they are received.
Offsite Breeding Programs

The Colonial Spanish Mustang is on the threatened breeds list of the American Livestock Breed Conservancy, with less than 5,000 horses globally.
100 Reasons to NOT Touch or Feed Our Wild Horses

Our current herd count is 100. That is about 30 short of the minimum we need to maintain the genetic diversity and physical health of the wild horses. It is about to get smaller.

Last night I got several calls regarding a stallion that was lying on a sand road in Carova (the northernmost development on the north beach). He had been in the area grazing all day but had been lying on Ocean Pearl Road for about an hour. The initial caller wasn't too concerned at first because the horses lie down in the sand and rest all the time. What caused him the most concern was watching a woman walk right up to the stallion, scratch him on the forehead, and the stallion made no attempt to get up or show signs that he didn't welcome the attention. That is not normal behavior for a wild animal. That is what convinced him that something was wrong with the horse.

Long story short – the stallion was not sick or injured - but he is going to have to be captured and removed from the beach anyway. Why? Because he clearly has no fear of humans. He has no fear of humans because it is most likely that he has been approached and or fed so many times that he accepts, and perhaps now looks for, attention from humans. Now this horse has become a danger to humans. If he isn't already, he will now approach humans and demand to be fed. In 2006 we removed another young stallion because he approached a resident out for a walk, demanded to be fed, and knocked the woman down because she had nothing to give him. Luckily she was only severely bruised. Now he is a gelding awaiting adoption and can never return to the beach that was his home.

Last year we found a young mare dead by a canal. Necropsy results identified alfa toxin poisoning as the cause of death. The horse apparently ate moldy hay that some well meaning but misguided person put out for the horses.

We have only 100 horses. We cannot afford to lose a single horse from the already dwindling gene pool. IT IS AGAINST THE LAW IN CURRITUCK COUNTY TO APPROACH, PET, OR FEED A WILD HORSE. There are 100 good reasons for this.

The horses have a specialized diet that has kept them healthy for nearly five centuries. Our volunteers have found apples, carrots, celery, spinach and lettuce that is being left out or fed directly to wild horses. The other consequence of feeding is painful colic or death but that is another topic in itself.

The link to the Wild Horse Ordinance is on our home page. Spread the word. Save our wild horses. Respect the Wild Horse Ordinance.
Until the Last Wild Horse is Gone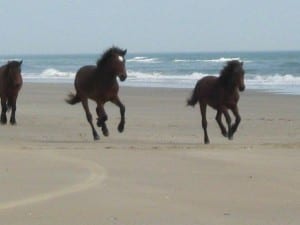 This has been a devastating year for the American wild horse. In the west, as if the cruel helicopter roundups, confinement of nearly forty seven thousand wild horses in government holding pens, and their sale to kill buyers for slaughter in Canada and Mexico is not horrific enough, other insidious ways to rid the land of wild horses and the advocates trying to save them are beginning to surface.
In the east, advocates for the wild horses north of Corolla, NC have been working with federal legislators to pass the Corolla Wild Horses Protection Act. The Act mandates that the herd be managed at a range of 120 – 130 with never less than 110 and that mares from Shackleford Banks can be introduced periodically to address the Corolla's dying gene pool. Similar legislation was passed in 1998 to protect the Shackleford horses that live on half the habitat available to the Corollas.
Presently, an expired management plan calls for a maximum herd size of 60 and United States Fish & Wildlife Service has refused to allow the number to change. Two thirds of the land available to the wild horses of Corolla is privately owned and the other one third is owned by USFWS. This year's aerial count showed 121 horses on 7,544 acres with only 8 horses on USFWS land. The current herd size is 119.
The Corolla Wild Horses Protection Act, sponsored by Congressman Walter Jones (R), passed the United States House of Representatives unanimously, on February 6, 2012. It was introduced into the Senate by NC Senator Kay Hagan (D) and co-sponsored by NC Senator Richard Burr (R) in March and referred to the Senate Environment and Public Works Committee where it has remained ever since.
Time is running out for the bill (S 3448) and for the Corolla wild horses. It will not take helicopter roundups, sales to kill buyers, or poisoned water to kill them. Without the ability to be managed at a genetically and physically healthy level, nature – in the form of genetic collapse and physical abnormalities due to inbreeding – will do the trick within a few generations. Once they are gone – they are gone forever.
You can help to save them. Please e mail Senator Barbara Boxer, Chairperson of the Environment and Public Works Committee:https://boxer.senate.gov/en/contact/policycomments.cfm and Senator James Inhofe: http://inhofe.senate.gov/public/index.cfm?FuseAction=Contact.ContactForm .
Tell them that you strongly support S 3448 and you want to see it passed before the end of this year. Tell them that these horses have coexisted with all other wildlife for nearly 500 years and have had no unacceptable impact on the environment. The Shackleford horses have been managed at the same number as defined in S 3448 for 14 years, on half the land available to the Corollas, with no unacceptable impact.
Only the voting public can stop the eradication of wild horses from our country.
URGENT! Help Save North Carolina's State Horse!
Dear Supporters of the Corolla Wild Horses:
The North Carolina State Horse urgently needs your help. The Corolla Wild Horses Protection Act, S 3448, sponsored by North Carolina Senator Kay Hagan and cosponsored by NC Senator Richard Burr, has been sitting in the United States Senate Environment and Public Works Committee since March of this year. It was passed unanimously by the US House of Representatives on February 6. This bill is absolutely critical to the long term survival of the free-roaming wild horses living north of Corolla.
The bill mandates that the herd be managed at 120 – 130 with never less than 110, which is the absolute minimum for genetic and physical health in this wild population. Currently, United States Fish & Wildlife Service (owner of 3,000 of the 7,544 total acres accessible to the wild horses) is insisting that the herd size be 60. Results of recent genetic testing show an alarming level of inbreeding and the presence of only one maternal line. In contrast, the wild horses of Shackleford Banks (Cape Lookout National Seashore) have been managed at the level that we are requesting (120 – 130) for nearly 15 years, on 3,000 acres, with no unacceptable impact to the environment. The Shackleford horses are federally protected by the Shackleford Banks Act that was sponsored by US Congressman Walter Jones (NC) and signed into law in 1998 by President Bill Clinton.
In the last 7 years of our aerial counts, the maximum number of wild horses on the Currituck National Refuge was 35. This year there were 8 and another year there were 0! The majority of the herd is consistently found on private property – not wildlife refuge.
Managing the Corolla herd at 60 is managing for genetic collapse and eventual extinction. In 2010, these wild Colonial Spanish Mustangs were designated by the NC Legislature as the North Carolina State Horse. WE ARE ASKINGFOR YOUR HELP TO SAVE THE WILD HORSES OF COROLLA FROM DISAPPEARING FROM THE LAND THEY HAVE INHABITED FOR CENTURIES.
Time is running out. Soon, Congress will recess for the holidays. If the bill is not passed, it will have to be introduced in the US House of Representatives and the process will start all over again. Please contact Senators Hagan and Burr and let them know that you not only strongly support the Corolla Wild Horses Protection Act (S3448) you want it passed by the end of this year.
Please act today. Be a voice for the horses. They are an integral part of the history of our country and without your help and support, they may disappear forever.
Senator Kay Hagan: http://www.hagan.senate.gov/contact/ FAX: 202-228-2563; Phone: 202-224-6342
Senator Richard Burr: http://burr.senate.gov/public/index.cfm?FuseAction=Contact.ContactForm
FAX: 202-228-2981; Phone: 202-224-3154
LETTERS SENT BY US MAIL WILL NOT REACH THE SENATORS IN TIME AS THEY UNDERGO IRRADIATION
---
We sponsor the Corolla Wild Horse Fund to help keep our friends WILD & FREE